Smartmail Marketing™ and Commercial Mail Services Overview of Changes posted October 28, 2022
This overview is a notice of the changes and improvements affecting services you, or an authorized user of your Agreement with Canada Post currently use. Please share this information with your colleagues who prepare mailings or work directly with Canada Post.
This notice and any applicable customer guides form part of your agreement with Canada Post. The most current and upcoming customer guides are always available at canadapost.ca/notice.
Canada Post will introduce changes to the following services:
Service Changes
Smartmail Marketing™ (SMM)
Commercial Mail
Personalized Mail™
Postal Code Targeting
Neighbourhood Mail™
Incentive Lettermail™ /Lettermail
Incentive Letter-post™ /Letterpost
Publications Mail™
Business Reply Mail™
Recently introduced
My Mailbox
Reduced SOM copies
Effective January 9, 2023
Newly accessible customer guides
Update to content definition
Return address clarification
New cardstock label for Canada Post supplied containers
Recently introduced
APPLICABLE TO PERSONALIZED MAIL, POSTAL CODE TARGETING, NEIGHBOURHOOD MAIL AND LETTERMAIL
Introducing My Mailbox
MyMail – a free, secure online service that notifies recipients when mail is on its way to their physical mailbox through app notification, emails or both. Use this new channel to communicate with customers and amplify the impact of your SMM marketing campaigns with digital impressions. With MyMail, you can connect your message across all media touchpoints, increasing investment results. The service will be available to all Canadians through the Canada Post app in early 2023.
APPLICABLE TO PERSONALIZED MAIL, POSTAL CODE TARGETING, NEIGHOURHOOD MAIL, PUBLICATIONS MAIL, LETTERMAIL AND LETTER-POST
Reduced SOM copies
After consultation with mailers and adjustments to our processes, effective immediately, only the first copy of the Electronic Shipping Tools (EST) generated Statement of Mailing (SOM) is required at the time of deposit.
Until our system changes can be made, here's how to suppress the Customer Copy (EST 2.0 only):
Go to your "Preferences", "Defaults for Output", click checkbox "Do not print the Customer Copy"

When it is time to print the Statement of Mailing (SOM), save to .PDF, then print page one only.
EST Online: Statement of Mailing is automatically saved as a .PDF, you will only need to print page one.
Effective January 9, 2023
APPLICABLE TO ALL SERVICES
Newly accessible customer guides
We're making changes to our Smartmail Marketing and Commercial Mail customer guides. These changes, driven by our Accessibility Strategy, are designed to make our services more accessible and inclusive. Specifically, the content has been reorganized to improve the overall navigation experience to better guide customers through various mail and shipping requirements.
The new customer guides posted at canadapost.ca/notice as of November 21, 2022, will come into effect on January 9, 2023. Look for the "important updates" section for details on other notable changes within each guide.
APPLICABLE TO POSTAL CODE TARGETING
Update to content definition
Postal Code Targeting (PCT) is an ideal service to help identify and reach postal codes that match your ideal prospects, so that you can expand into new markets, target look-alike audiences, reach specific communities and optimize your targeting by suppressing existing audiences to focus on acquisition.
We have clarified the Unacceptable item section in the Service Overview for Postal Code Targeting to include, voter notification cards and ballots, or any item sent to an individual that has been personalized through content or creative artwork as not acceptable items.
Canada Post reserves the right to refuse, at its sole discretion, any mailing that does not meet its criteria.
Contact a Smartmail Marketing Partner or your Canada Post Representative for more information or for help with your next Postal Code Targeting campaign.
APPLICABLE TO PUBLICATIONS MAIL
Return address clarification
Publications Mail has an optional return to sender feature. If the publisher includes a visible domestic (Canadian) return address.
The return address may be printed on the address label on a magazine. Ensure that it is visible and cannot be mistaken as the destination address. See image below and refer to the Designing section in the Commercial Mail Customer Guide.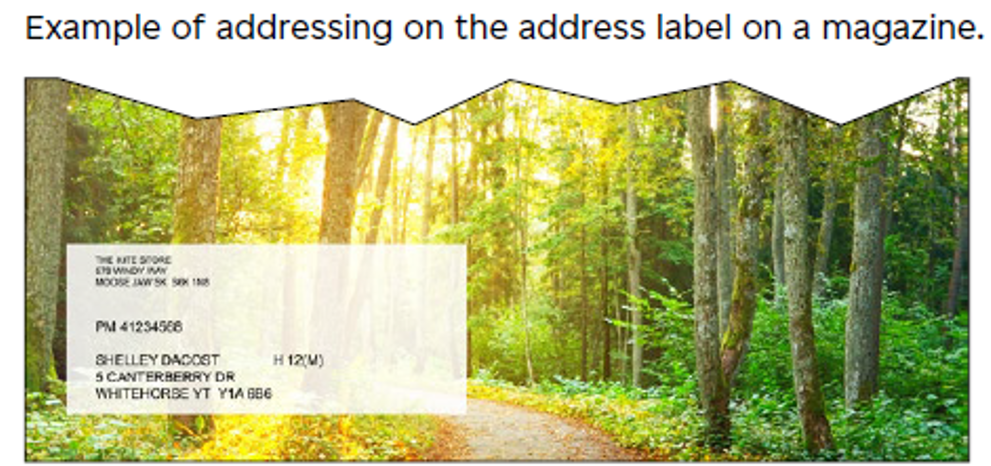 Undeliverable items without a return address are disposed of or recycled at our discretion. Disposed of or recycled items cannot be retrieved by customers.
APPLICABLE TO NEIGHBOURHOOD MAIL
New cardstock label for Canada Post supplied containers
We are introducing a new label made of cardstock for Canada Post supplied containers. For Neighbourhood Mail, we currently only provide the blank self-adhesive label #33-086-813. Soon we will offer the cardstock version #33-086-877 for use on Canada Post supplied containers. Once the new cardstock version is available, the current blank self-adhesive label should only be used for Customer supplied cardboard boxes and Flexipack pouches.
The new cardstock label will be available to order online at canadapost.ca/obc or by calling 1-888-550-6333 or 1-800-260-7678 in early 2023.