Everything you need to know about sending or receiving a parcel with the Collect on Delivery (COD) option
What is Collect on Delivery (COD)?
It is a delivery option available for domestic parcel shipments for an additional fee.
We collect the payment on behalf of the sender before handing the parcel over to the addressee (the parcel's final recipient). Once the parcel is paid for and delivered, we securely transfer the funds to the sender.
Rates
The sender must pay the COD fee of $7.25 plus applicable shipping fees.
Important: The Priority, Xpresspost, and Expedited Parcel services include Liability Coverage up to $100 against loss, damage, or COD service failure. If your COD amount exceeds $100, we strongly recommend you purchase additional Liability Coverage. If you get additional Liability Coverage, the purchase of the Signature option will be mandatory.
Sending a COD parcel
You are allowed to send a parcel with the COD option only if the recipient has asked for this option.
You can buy a COD shipping option at a convenient post office along with one of our shipping services: Priority™, Xpresspost™, Expedited Parcel™ or Regular Parcel™. Alternatively, you can save time at the post office by preparing your COD form online.
To send a COD parcel from one of our post offices:
Present the parcel at the post office and inform the clerk you would like to send it with the COD option.
Specify the desired shipping service (Priority™, Xpresspost™, Expedited Parcel™, or Regular Parcel™) and any necessary options such as Liability Coverage or Signature.
Specify the COD amount you want to collect. It can cover charges directly related to your item, for example:
the value of the shipped item
service charges (like repairs) of an item that is now being returned to the owner
postage (including the COD fee)
taxes.
Confirm and pay for the shipment.
When the item is delivered, we collect payment from your recipient/customer and send it to you by cheque or electronic transfer (may be subject to a remittance delay of 10 business days).
Note: Commercial senders can use EST Desktop 2.0 to prepare COD Labels while Canada Post Solutions for Small Business™ customers can use Shipping Manager.
Important:
Canada Post does not accept multiple-piece shipments or duplicate tracking numbers.
The sender should create a COD label for each parcel they are sending. If the tracking number was used on a previous shipment, the parcel will be returned to the sender.
COD fees and customs fees are not the same charges.
If a customer orders internationally and the COD parcel crosses borders, additional payments for delivery such as customs, taxes, or handling fees may apply.
Receiving and paying for a COD parcel
You will get a delivery notice card (see image) in your mailbox. Take the card to the post office location indicated to pay the amount the sender has asked for before receiving your parcel.
The COD option can't be paid online by the end recipient but only at the retail counter.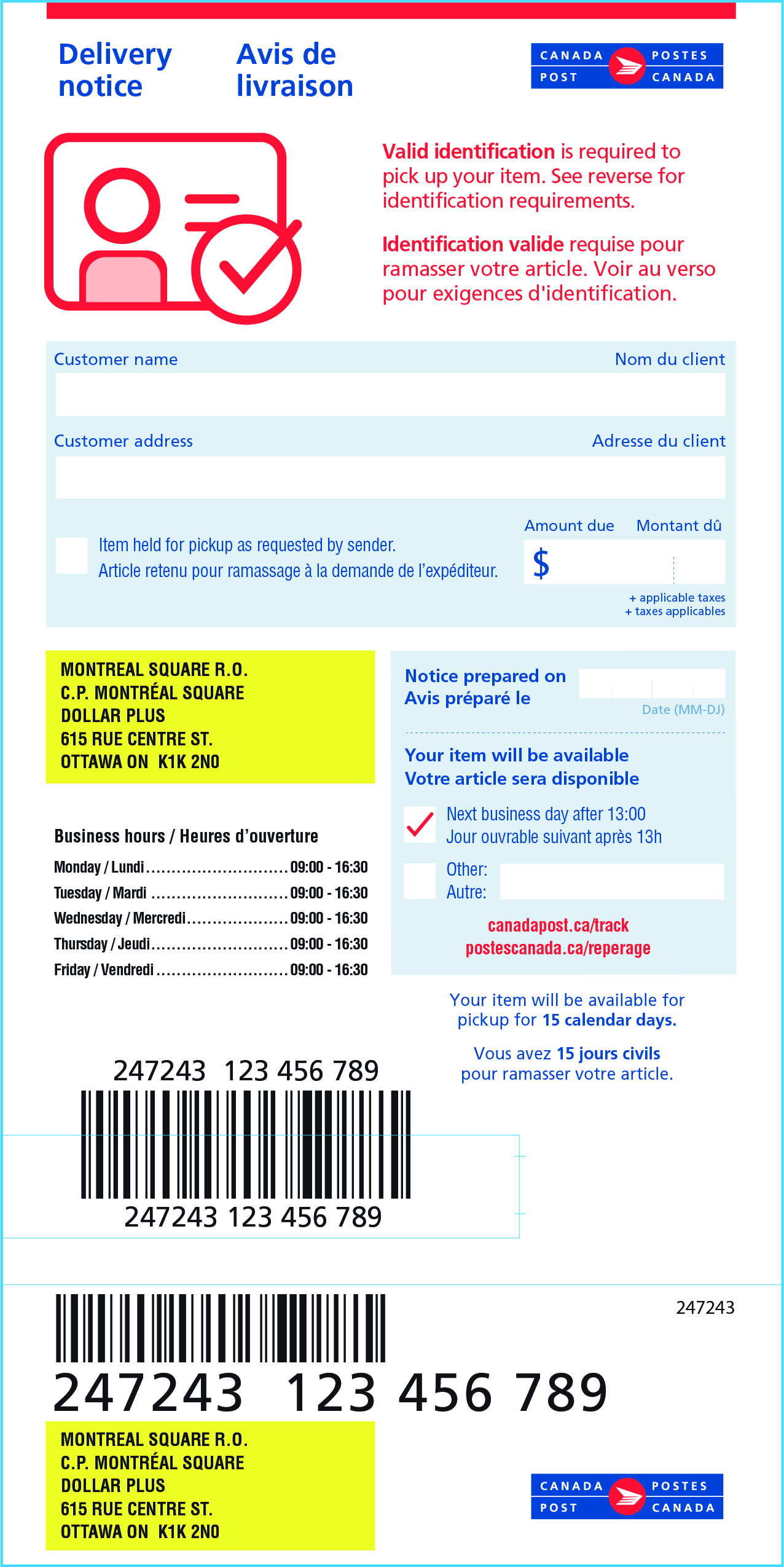 Notes for commercial and Solutions for Small Business customers.
Commercial customers can receive COD remittances through electronic funds transfer. The COD limit is $5,000.
If you are a Canada Post Solutions for Small Business™ customer or if you don't have an electronic payment profile set up with Canada Post, you will receive COD remittances by mail. For customers without a commercial shipping contract, the COD limit is $1,000.
Here are the payment methods available:
| Payment method | Payment amount | Payment considerations |
| --- | --- | --- |
| Credit card | Up to $100 | |
| Cash | Up to $1,000 | |
| Debit card | Up to $5,000 | Debit card payment is not available at all post office locations. Transaction limits may need to be adjusted with your bank to pay by debit card. |
| Certified cheque | Up to $5,000 | Address certified cheque to Canada Post Corporation. |
| Bank draft | Up to $5,000 | Address bank draft to Canada Post Corporation. |
| Money order | Up to $5,000 | Each money order can total a maximum amount of $999.99. Make money orders payable to Canada Post Corporation. |
Undeliverable COD parcel
If the recipient (final customer) cannot be located, fails, or refuses to pay the COD amount, the item will be deemed undeliverable and will be returned to you. Return charges will apply. The COD option fee will not be refunded.
COD service failure
The COD service failure occurs when the COD parcel was delivered but funds were not collected, or funds were not submitted to you by Canada Post. In this case, you may submit a claim for COD service failure. For more information about our terms and conditions, visit canadapost.ca/generalterms.
Any claim for COD service failure must be submitted to Canada Post within 120 calendar days of the shipping date. To initiate a claim, you must contact the Customer Relationship Network at 1-866-607-6301 or go to canadapost.ca/claims.