Everything you need to know about sending or receiving a parcel Collect on Delivery
What is Collect on Delivery (COD)?
Collect on Delivery (or cash on delivery) is a Canada Post service. It allows the sender to collect up to $5,000 from the person receiving a delivery. You can use it on shipments sent within Canada.
We collect the payment on behalf of the sender before handing over the parcel, and send it securely to the shipper.
Rates and prices
The sender must pay the COD fee of $7.25 plus shipping fees (you can choose to recover your shipping costs in your COD amount).
Sending a COD parcel
You are allowed to send a parcel COD if the recipient has asked for the item.
You can buy a COD shipping option at a convenient post office along with one of our shipping services: Priority™, Xpresspost™, Expedited Parcel™ or Regular Parcel™. You can save time at the post office by preparing your COD form online.
Specify the COD amount you want to collect. It can cover charges directly related to your item, including:

Value of the shipped item
Service charges (like repairs)
Sales tax
Postage
Your COD fee and other special service fees

We collect payment from your recipient/customer and send it to you by cheque.
Receiving a COD parcel
You will get a delivery notice card (see image below) in your mailbox. Take the card to the post office location indicated to pay the amount the sender has asked for before receiving your parcel.
Example of a delivery notice card.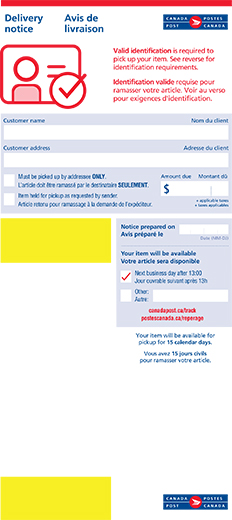 | Payment method | Payment amount | Payment considerations |
| --- | --- | --- |
| Credit card | Up to $ 100 | |
| Cash | Up to $1,000 | |
| Debit card | Up to $5,000 | Debit card payment is not available at all post office locations. Transaction limits may need to be adjusted with your bank to pay by debit card. |
| Certified cheque | Up to $5,000 | Address certified cheque to Canada Post. |
| Bank draft | Up to $5,000 | Address bank draft to Canada Post. |
| Money order | Up to $5,000 | Each money order can total a maximum amount of $999.99. Make money orders payable to Canada Post Corporation. |
How to pay for COD shipments
Refer to the following table for the different ways you can pay for a COD shipment. Refunds for COD items must be directly arranged with the sender, not Canada Post.
Changes to COD shipments
We have simplified the COD process. Effective October 20, 2014, you will no longer need to print remittance labels, record of delivery labels or to specify the method of payment for COD shipments. Your recipients/customers will pick up their items and pay the COD amount at one of our 6,200 convenient post offices.
Commercial customers can receive COD remittances through electronic funds transfer. The COD limit is $5,000.
If you are a Canada Post Solutions for Small Business™ customer or if you don't have an electronic payment profile set up with Canada Post, you will receive COD remittances by mail. For customers without a commercial shipping contract, the COD limit is $1,000.