How to make changes to your Mail Forwarding or Hold Mail service
You can make changes to your service online through your Canada Post account dashboard, or at the nearest post office.
1. Create or log into your account.
2. On the top right corner of the screen, navigate to your account name and select "Dashboard".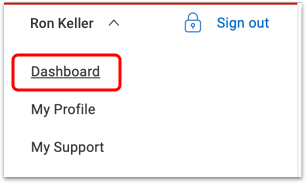 Extend, change, or cancel your service online
1. After selecting the dashboard, navigate to "Mail Forwarding" or "Hold Mail", and select "View all orders".

2. Select "View details" of the order you wish to change.
3. At the bottom of the "Transaction History" list, select "Extend" or "Cancel Service".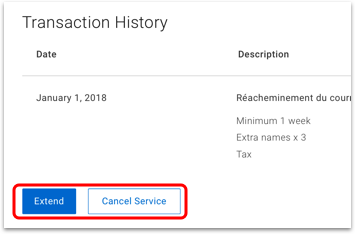 Link a retail transaction to your online account
Notice: Any transactions done online before August 24th need to be linked to your online account, and all transactions done at retail at any timeframe need to be linked.
1. Create or log into your account.
2. Navigate to the dashboard, and select "View all orders" for Mail Forwarding or Hold Mail.
3. Enter these order details:

a. Reference number
b. Postal code for the origin address
c. Email address on the order
Make service changes at the post office
Go to any post office location convenient to you with these items:
Reference number of the service. Find this on your receipt, expiry notice letter or original email confirmation
Government-issued photo identification
If you can't locate your reference number, you will need to provide additional information that is associated with the service along with your government-issued photo ID:
Last name
Original or new postal code
Telephone number