Black History Month stamp honours Chloe Cooley
Although unable to escape her own bondage, Cooley's resistance helped forge a path to freedom for enslaved people in Upper Canada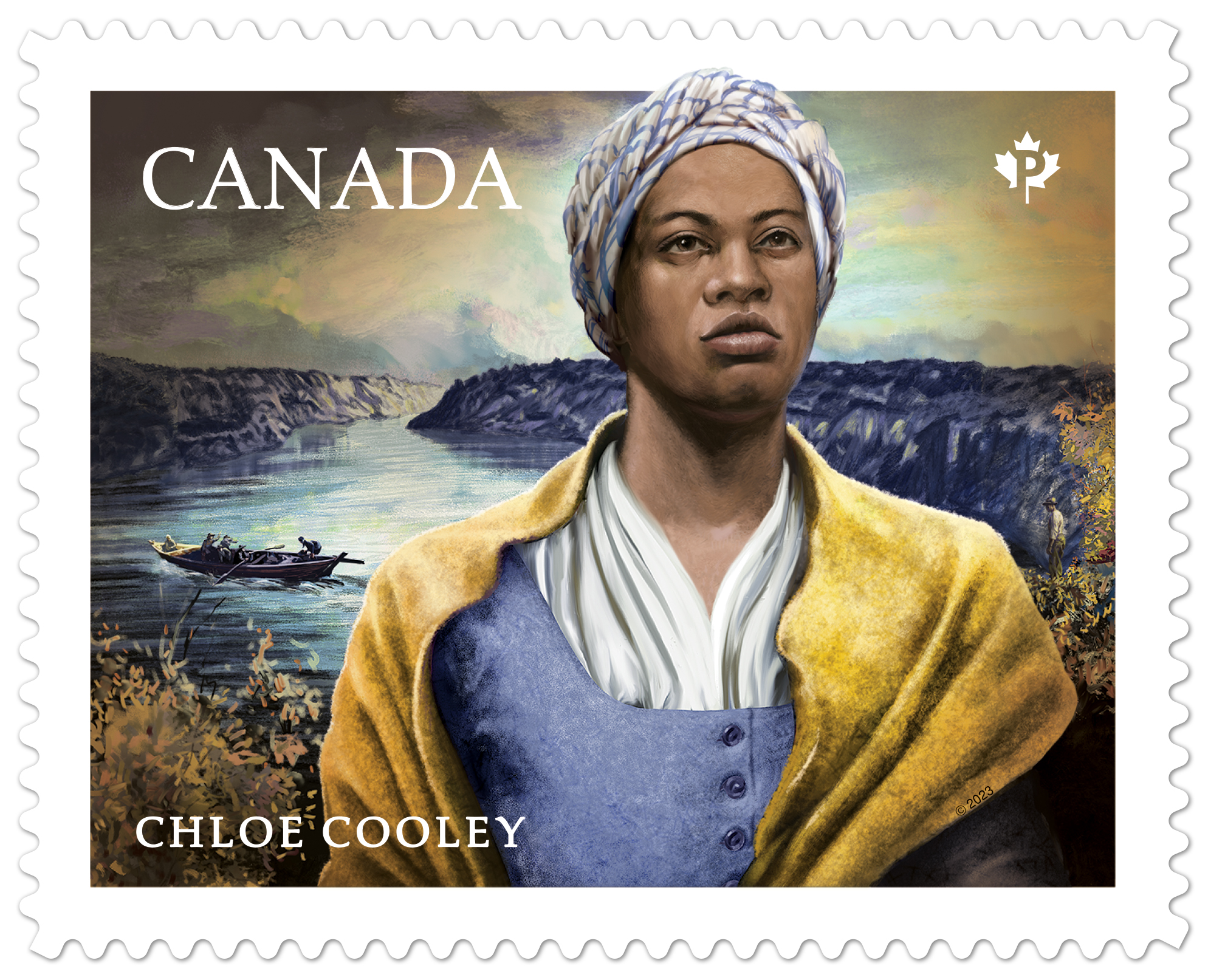 NIAGARA-ON-THE-LAKE, Ontario – Today, Canada Post unveiled a new Black History Month stamp honouring Chloe Cooley, who had a profound impact on the history of enslavement in Canada. Her act of resistance on the evening of March 14, 1793, ushered in legislation that would lead to the gradual abolition of enslavement in Upper Canada and provide a refuge for freedom-seekers from abroad.
Cooley was a young, Black enslaved woman who lived in Queenston, Upper Canada, in the late 18th century. Although enslavement in Upper Canada was on the rise at the time, attitudes toward it were shifting and the abolitionist movement was gaining momentum.
Rumours were growing that enslavement could soon be banned. Fear of losing their investments prompted some enslavers to sell what was legally considered their property. Among them were Sergeant Adam Vrooman, who enslaved Chloe Cooley.
On that chilly March evening, Vrooman abducted Cooley. He violently bound her and, with the assistance of two other men, dragged her to the shores of the Niagara River. But Cooley was defiant.
She had been known to bravely challenge her enslavement in the ways that she could, such as leaving Vrooman's property without permission and refusing to do some tasks. So, when her enslaver abducted her, she fought back hard, screaming and yelling for help as she struggled to get free. Her protests were so loud that they drew the attention of those nearby.
Ultimately, however, Cooley was overpowered and taken across the river to New York State, where she was sold.
Although history doesn't tell us what happened to Cooley after that night, witnesses recounted what they saw to Lieutenant-Governor John Graves Simcoe, an avowed abolitionist. He was able to use their testimony to introduce new legislation.
On July 9, 1793, what became known as the Act to Limit Slavery in Upper Canada was passed.
Cooley herself did not benefit from the legislation, but it opened a pathway to freedom for others, as it set the stage for the gradual ending of enslavement in Upper Canada. It also created a legal refuge for those fleeing enslavement in other countries – helping to pave the way for at least 30,000 freedom-seeking Black Americans to make the dangerous journey north to Canada over the decades to come.
In 1833, enslavement was officially abolished throughout the British Empire, and the last remaining enslaved persons in Upper Canada would finally be freed.
About the stamp
The Chloe Cooley stamp was designed by Lime Design and features the illustrative work of Rick Jacobsen. With no photographs of Chloe Cooley in existence, the illustration was painstakingly created through extensive consultation with experts in local and regional history, Black history and period fashion, as well as through the use of archival maps, paintings, illustrations and other documents. Printed by Lowe-Martin, the issue includes a booklet of six PermanentTM domestic rate stamps and an Official First Day Cover. The cancel site is Niagara-on-the-Lake, Ontario, which includes Queenston.
The stamp and collectibles are available at canadapost.ca and postal outlets across Canada.
For links to images of the stamp and other products, Details magazine and other resources:
- 30 -
For more information:
Media Relations
613-734-8888
TM Trademark of Canada Post Corporation