Five eye-catching stamps depict 20th-century travel posters from a stylish, golden age of commercial art in Canada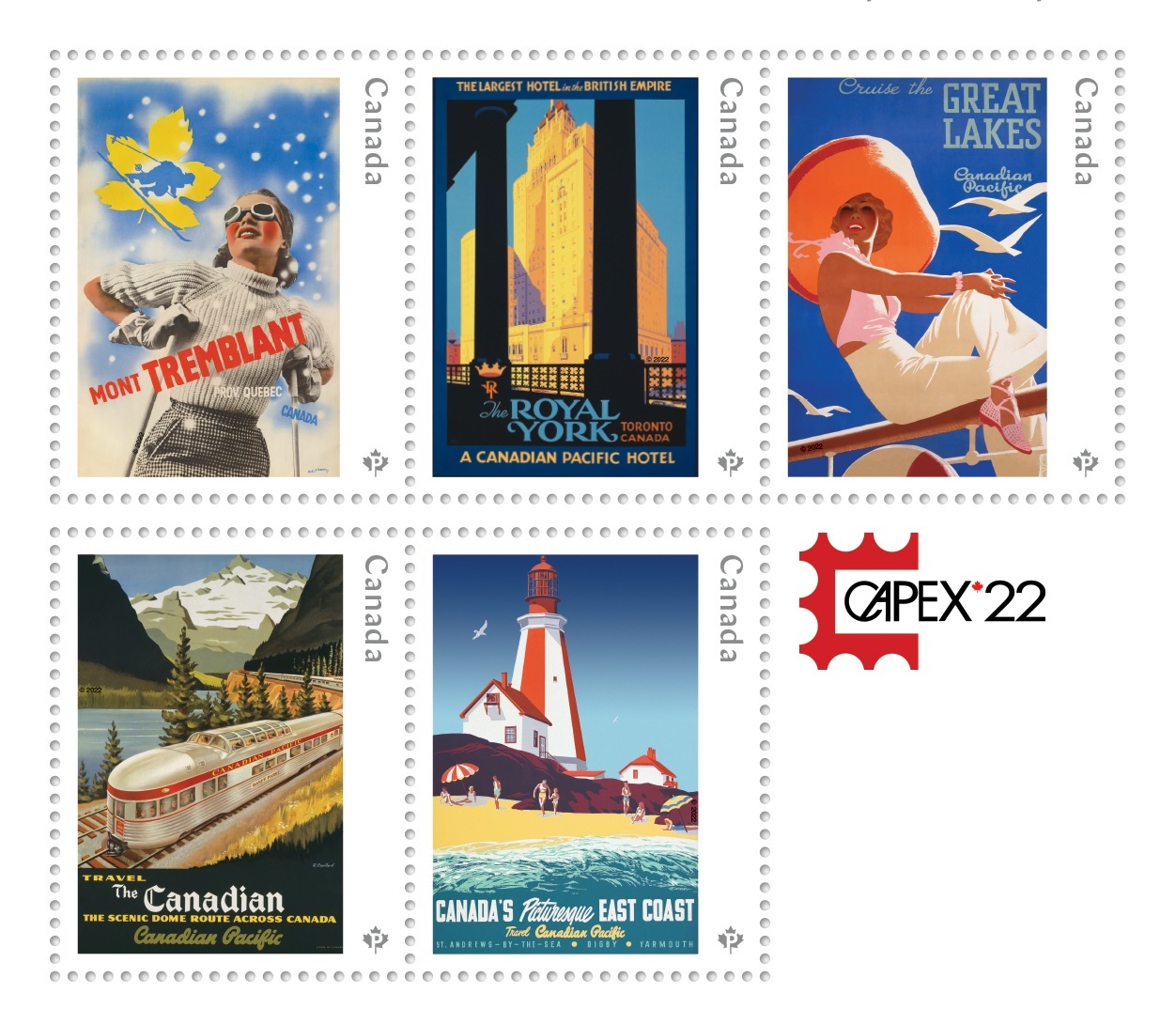 TORONTO - Canada Post released five new stamps today featuring nostalgic travel posters from a golden age of commercial art and tourism marketing in Canada.
With railway expansion and, later, the advent of the automobile, Canada's popularity as a tourist destination surged in the early 20th century. Railways and steamship companies promoted the burgeoning industry by commissioning illustrators and designers to target globe-trotting tourists and Canadians alike. Ad campaigns beckoned people to explore Canada's wild beauty and urban attractions by promising world-class adventure, scenery and luxury.
The boom in travel advertisements with a distinctive and elegant style fostered a golden age of commercial art in Canada. The five posters chosen for the issue evoke nostalgia for an era of glamorous travel:
An observation car on the Canadian, Canadian Pacific Railway's premier transcontinental train, in the Rocky Mountains (1955, by Canadian artist Roger Couillard).
The breezy glamour of cruising the Great Lakes with Canadian Pacific (circa 1937, after the work of British artist Tom Purvis).
The Royal York – now the Fairmont Royal York – a landmark hotel in downtown Toronto (circa 1935, by Norman Fraser, birthplace unknown).
Skiing in style at picturesque Mont-Tremblant ski resort, Quebec (1939, by Austrian-born artist Herbert Bayer).
The welcoming sandy beaches and lighthouses of Canada's spectacular east coast (circa 1950, by Saskatchewan-born artist Peter Ewart).
The stamps were unveiled at the inaugural CAPEX 22 International One Frame Stamp Championship Exhibition held at the Metro Toronto Convention Centre, June 9-12.
About the stamp issue
The Permanent™ domestic rate stamps are available in booklets of 10. They were designed by Paprika of Montréal and printed by Lowe-Martin. There is also an Official First Day Cover, a souvenir sheet of all five stamps, prepaid postcards (sold separately or in a set of five) and a souvenir sheet overprinted with the CAPEX 22 logo.
The stamps and collectibles are now available for purchase at post offices or at canadapost.ca/shop. For images and more information on these and other products:
- 30 -
For more information:
Media Relations
613-734-8888
™ Trademark of Canada Post Corporation.